You are welcomed to disover, explore and experience the Stó:lō People, Traditions and Culture
Coqualeetza Grounds Tours. Fraser Valley Road Tours. Fraser River Adventure River Tours.
Ey kwesé e'mi.. "it is good that you are here". Welcome to Chilliwack, situated in the traditional territory of the Stó:lō Nation – spanning from the community of Yale in the Fraser Canyon to the mouth of the Fraser River. In Halq'eméylem, the language of the region, "Stó:lō" translates as "river". The Stó:lō First Nations people, or "people of the river" have always lived in the region and their ancient stories, history, culture, teachings and knowledge of the area passed down through the indigenous generations in an oral tradition. Please call us toll free at: 1-855-STOLO-52 or email: stolotourism@stolonation.bc.ca or visit us at 7201 Vedder Road for educational guided grounds, road and river tours, artifacts, fine arts and historical information​.

Shxwt'a:selhawtxw Longhouse Extension Program – The House of Long Ago and Today
An exceptional experience of the Stó:lō people: The Shxwtà:selhawtxw Longhouse Extension Program, known as the House of Long Ago and Today offers a unique hands-on and interactive approach to experiencing how the Stó:lō lived, and, how they live today. At Shxwtà:selhawtxw, you will be guided by Stó:lō cultural interpreters who will tell stories and legends, demonstrate the art and technology, and explain the artifacts and exhibits on display.
Your experience is only heightened by visiting the Coqualeetza Educational Longhouse, with fires and unimaginable ambiance. The Centre has an Ethnobotanical Garden featuring traditional Stó:lō foods and medicines and a serene pond – mimicking the natural landscape that the Stó:lō depending on for sustenance.
Tour lengths vary and topics of interest can be incorporated.
Topics:
• Bannock
• Carving
• Cedar, Bark, & Wool Weaving
• Fishing
• Slahal
• Speakers
• Story Telling
• Lands and resources
The Stó:lō Garden is a peaceful and welcome area that sits alongside the Coqualeetza Longhouse on the Sto:lo Nation grounds. There is an informational display that serves as a entrance way into the gardens and it features Stó:lō legends, people and history . The garden contains many of the important plants and medicines Stó:lō used historically and that are still used today.
The Coqualeetza Educational Longhouse serves as a sanctuary for Stó:lō traditions, knowledge, and ceremonies. It is an important site for community gatherings, celebrations, and ceremonies. It purpose is to be a true community educational building where Stó:lō neighbors can experience and learn about the Stó:lō culture.
The Coqualeetza Longhouse is available for rent on an hourly and daily basis. Call for rates. Traditional Salmon lunches are available for your group at an extra cost.
Stó:lō Tourism
Bldg. 10 -7201 Vedder Road
Chilliwack, BC V2R 4G5
Or call toll free: 1-855-STOLO-52 / 1-855-786-5652
E-mail: stolotourism@stolonation.bc.ca
Web: www.stolotourism.com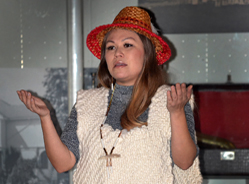 Welcome ~ Ey kwese e'mi